Powerful Blow to Bacterial Infections
Azithromycin 500mg Tablets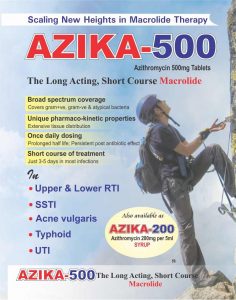 The Long Acting , Short Course Macrolide
Broad spectrum coverage–
Covers gram+ve, gram-ve & atypical bacterial
Unique pharmaco-kinetic properties–
Extensive tissue distribution
Once daily dosing–
Prolonged half life; Persistent post antibiotic effect
Short course of treatment–
Just 3-5 days in most infections
Indication
Upper & Lower RTI

SSTI

Acne vulgaris

Typhoid

UTI
Introduction About Azika
AZITHROMYCIN 500 MG – ORAL (ay-ZITH-roe-MYE-sin)
USES: Azithromycin is used to treat a wide variety of bacterial infections. It is a macrolide-type antibiotic. It works by stopping the growth of bacteria.This medication will not work for viral infections (such as common cold, flu). Unnecessary use or misuse of any antibiotic can lead to its decreased effectiveness.
HOW TO USE: Read the Patient Information Leaflet if available from your pharmacist before you start taking azithromycin and each time you get a refill. If you have any questions, ask your doctor or pharmacist.Take this medication by mouth as directed by your doctor, usually once daily with or without food. You may take this medication with food if stomach upset occurs. The dosage is based on your medical condition and response to treatment.Antibiotics work best when the amount of medicine in your body is kept at a constant level. 
SIDE EFFECTS: Stomach upset, diarrhea/loose stools, nausea, vomiting, or abdominal pain may occur. If any of these effects persist or worsen, tell your doctor or pharmacist promptly.Remember that your doctor has prescribed this medication because he or she has judged that the benefit to you is greater than the risk of side effects. Many people using this medication do not have serious side effects.
PRECAUTIONS: Before taking azithromycin, tell your doctor or pharmacist if you are allergic to it; or to other antibiotics (such as erythromycin, clarithromycin, telithromycin); or if you have any other allergies. This product may contain inactive ingredients, which can cause allergic reactions or other problems.