Add Energy To Life With
SALT COMPOSITION: – 
Protein Hydrolysate (20%) 0.333g + Iron Choline Citrate 15mg + L-Lysine HCl 20mg + Niacinamide 10mg +  Magnesium Chloride 3.333mg + Manganese Chloride 0.033mg + Zinc Sulphate 2.7mg per 5ml Syrup
The Complete Health Formula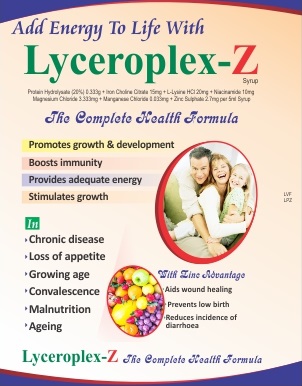 Promotes growth & development

Boosts immunity

Provides adequate energy

Stimulates growth
INDICATIONS
Chronic disease

Loss of appetite

Growing age

Convalescence

Malnutrition

Ageing
With Zinc Advantage
Aids wound healing

Prevents low birth

Reduces incidence of diarrhoea
Information About Lyceroplex Z Syrup
Lyceroplex Z Syrup used as supplement and contains Lysine, Vitamin B Complex, Zinc Sulphate, and Magnesium.
Role of key ingredients:
Lysine is one of the eight essential amino acids that are not produced naturally in the human body.
Lysine helps in the normal growth and development process through the production of carnitine and collagen. It also helps in the production of various enzymes, antibodies, and hormones.
Vitamin B complex protects the immune system, and work as an antioxidants.
Zinc Sulphate is used to prevent and treat zinc deficiency and its effects such as loss of appetite.
Magnesium is used to treat magnesium deficiency and its related symptoms such as unexplained fatigue and weakness.
Lyceroplex Z Syrup is used to remove weakness and improve appetite.
Directions of use:
Take Lyceroplex Z Syrup two teaspoonful twice a day.
Use under medical supervision.