Enzyme for Stomach Ailments & Acidity
SALT COMPOSITION: – Fungal diastase 50 MG+Pepsin 10 MG /5ML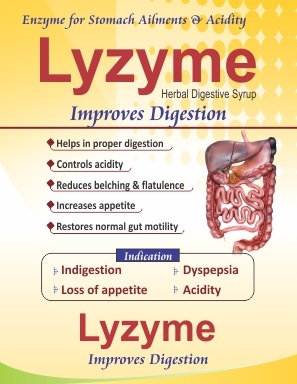 Improves Digestion
Helps in proper digestion

Controls acidity

Reduces belching & flatulence

Increases appetite

Restores normal gut motility
INDICATIONS
Indigestion

Loss of appetite

Dyspepsia

Acidity
Information About Lyzyme 200 Syrup
Lyzyme Syrup is used for Starch degrading enzyme, Digestive disorders and other conditions. Lyzyme Syrup may also be used for purposes not listed in this medication guide.
Lyzyme Syrup contains Fungal Diastase and Pepsin as active ingredients.
Lyzyme Syrup works by improving nutrition absorption and utilization; breaking the larger proteins into smaller one; Detailed information related to Lyzyme Syrup's uses, composition, dosage, side effects and reviews is listed below.
Uses
Lyzyme Syrup is used for the treatment, control, prevention, & improvement of the following diseases, conditions and symptoms:
Starch degrading enzyme

Digestive disorders

Lyzyme Syrup may also be used for purposes not listed here.
Lyzyme Syrup Side-effects
The following is a list of possible side-effects that may occur from all constituting ingredients of Lyzyme Syrup. This is not a comprehensive list. These side-effects are possible, but do not always occur. Some of the side-effects may be rare but serious. Consult your doctor if you observe any of the following side-effects, especially if they do not go away.
Diarrhea

Abdominal pain

Nausea

Painful urination

Feeling of sickness

Skin rash

Stomach upset

Acute toxicity

Lyzyme Syrup may also cause side-effects not listed here.
If you notice other side-effects not listed above, contact your doctor for medical advice. You may also report side-effects to your local food and drug administration authority.
Precautions
Before using Lyzyme Syrup, inform your doctor about your current list of medications, over the counter products (e.g. vitamins, herbal supplements, etc.), allergies, pre-existing diseases, and current health conditions (e.g. pregnancy, upcoming surgery, etc.). Some health conditions may make you more susceptible to the side-effects of the drug. Take as directed by your doctor or follow the direction printed on the product insert. Dosage is based on your condition. Tell your doctor if your condition persists or worsens. Important counseling points are listed below.
Consult your doctor in case of pregnancy or breastfeeding

Do not use if allergic to it

Pregnant, planning to get pregnant or breastfeeding
Interactions with Lyzyme Syrup
If you use other drugs or over the counter products at the same time, the effects of Lyzyme Syrup may change. This may increase your risk for side-effects or cause your drug not to work properly. Tell your doctor about all the drugs, vitamins, and herbal supplements you are using, so that you doctor can help you prevent or manage drug interactions. Lyzyme Syrup may interact with the following drugs and products:
When not to use Lyzyme Syrup
Hypersensitivity to Lyzyme Syrup is a contraindication. In addition, Lyzyme Syrup should not be used if you have the following conditions:
Crohn's disease

Formation of fibrous tissue in the colon

Gout

High amount of uric acid in the blood

Hypersensitivity

Inadequate absorption of nutrients due to short bowel

Intestinal obstruction in the fetus or newborn

Stomach or intestinal tract operation

Stomach or intestine blockage
Composition and Active Ingredients
Lyzyme Syrup is composed of the following active ingredients (salts)
Fungal Diastase – 50 MG 

Pepsin – 10 MG
Please note that this medicine may be available in various strengths for each active ingredient listed above.