Freedom From Uterine Problems with Nucordial
Information about Nucordial Syrup
Nucordial Syrup contains Ayurvedic ingredients (Ashoka Chhal – 100 mg, Dashmool – 100 mg, Shatavari – 100 mg, Ashwagandha – 100 mg, Nagkesar – 50 mg, Ulat Kambal – 50 mg, Chikni Supari – 75 mg, Manjisht – 50 mg, Punarnava – 100 mg, Amla – 50 mg, Dhai Phool – 50 mg, Gokhshru – 30 mg, Suhaga – 25 mg, and Shudh Fitkari – 25 mg).
Ayurvedic ingredients are effective in treating uterine infection and prevent calculus deposition. It also treats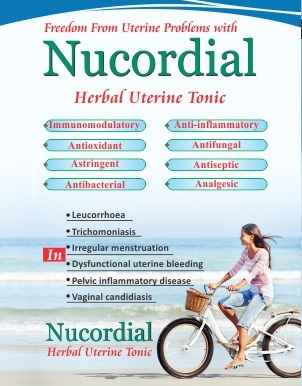 abdominal discomfort, boosts system immunity, and eliminates toxins. Ayurvedic ingredients also helps maintain a healthy female reproductive system and assists in healthy flow of urine. Nucordial Syrup treats leucorrhoea weakness, and reduces vaginal infections. It also cures pain in lower abdomen, anaemia, and improves health and beauty of women.
Immunomodulatory
Antioxidant

Astringent

Antibacterial

Anti-inflammatory

Antifungal

Antiseptic

Analgesic
INDICATIONS
Leucorrhoea

Trichomoniasis

Irregular menstruation

Dysfunctional uterine bleeding

Pelvic inflammatory disease

Vaginal candidiasis
Directions of use:
Take two to three teaspoons of Nucordial Syrup twice a day.
Use under medical supervision.