The Antibacterial Always on TOP
SALT COMPOSITION: – Ofloxacin (200mg)
Information About OFTOP 200 Tablets
Oftop 200Mg Tablet is an antibiotic drug that fights against bacterial infections. It is used in the treatment of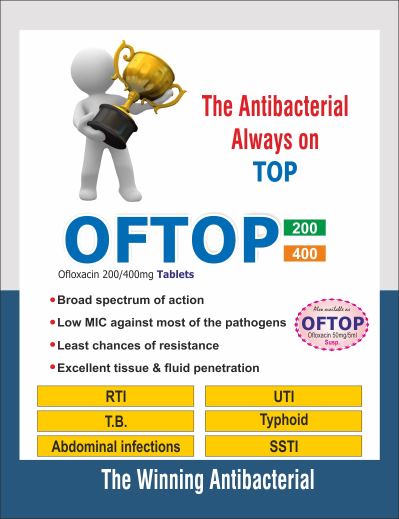 infections that are caused by bacteria, such as chronic bronchitis, pneumonia, tuberculosis, gonorrhea, Chlamydia, anthrax and plague. This anti-biotic also treats bacterial infections of the skin, ears, eyes, sinus, pelvis, urinary tract, bladder, cervix, urethra and the respiratory system.
Oftop 200Mg Tablet inhibits the production of certain enzymes in the DNA of a bacteria, which are necessary for the survival and growth of this bacterial infection. Therefore, this antibiotic drug fights against bacterial infections by killing the bacteria and inhibiting the process of bacterial cell division.
Oftop 200Mg Tablet is an antibiotic medicine that kills bacteria and hinders their growth. This antibiotic is a part of a class of drugs called fluoroquinolones, which work to treat infections that have been caused by bacteria. It is highly effective in treating conditions such as infectious diarrhea, cellulitis, prostatitis, plague, pneumonia and tuberculosis. Oftop 200Mg Tablet also helps treat bacterial infections of the urethra, cervix, urinary tract, bladder, bones, skin, ears, nose and eyes.
Oftop 200Mg Tablet fights against both Gram-negative as well as Gram-positive bacteria. It damages double stranded bacterial DNA and hinders DNA relaxation, thus inhibiting the synthesis of bacterial DNA. In this way, Oftop 200Mg Tablet inhibits the process of cell division for bacterial DNA, which helps you to get rid of a bacterial infection.
World Renowned Antibacterial
Broad spectrum of action

Low MIC against most of the pathogens

Least chances of resistance

Excellent tissue & fluid penetration
INDICATIONS
RTI

T.B.

UTI

Typhoid

SSTI

Abdominal infections
Also available as
OFTOP Susp.
Ofloxacin 50mg/5ml