Ear Problems Require Quick Action
SALT COMPOSITION: – Clotrimazole 1% w/v + Lignocaine HCI 2% w/v + Glycerin& Propylene Glycol Ear Drops
Quickly Resolve Ear Problems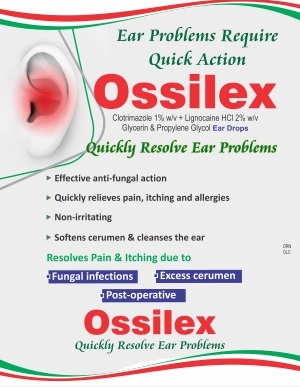 Effective anti-fungal action

Quickly relieves pain, itching and allergies

Non-irritating

Softens cerumen & cleanses the ear
Resolves Pain & Itching due to
Fungal infections

Excess cerumen

Post-operative
Introduction About Ossilex AC
Ossilex AC Ear Drop is a combination medicine used in the treatment of ear infections. It works by killing microorganisms that cause infection. It also blocks the release of certain chemical messengers that cause redness, swollen, and itching.
It may cause some side effects like ear discomfort and itching.
USES OF OSSILEX AC EAR DROP
OSSILEX AC EAR DROP SIDE EFFECTS
Common

Ear discomfort

Itching

Pain
HOW TO USE OSSILEX AC EAR DROP
This medicine is for external use only. Take it in the dose and duration as advised by your doctor. Check the label for directions before use. Hold the dropper close to the ear without touching it. Gently squeeze the dropper and place the medicine inside ear.
HOW OSSILEX AC EAR DROP WORKS
Ossilex AC Ear Drop is a combination of two medicines: Chloramphenicol and Prednisolone. Chloramphenicol is an antibiotic which stops bacterial growth in the ear by preventing synthesis of essential proteins required by bacteria to carry out vital functions. Prednisolone is a steroid. It blocks the production of certain chemical messengers (prostaglandins) that make the ear red, swollen and itchy.
OSSILEX AC EAR DROP RELATED WARNINGS
Alcohol – No interaction found/established
Pregnancy – CONSULT YOUR DOCTOR
Ossilex AC Ear Drop may be unsafe to use during pregnancy. Although there are limited studies in humans, animal studies have shown harmful effects on the developing baby. Your doctor will weigh the benefits and any potential risks before prescribing it to you. Please consult your doctor.
Lactation – CONSULT YOUR DOCTOR
Ossilex AC Ear Drop is probably unsafe to use during breastfeeding. Limited human data suggests that the drug may pass into the breastmilk and harm the baby.
Driving – No interaction found/established
Kidney – No interaction found/established
Liver – No interaction found/established