In Vertigo & Associated Symptoms – Balances the Unbalanced Life
SALT COMPOSITION: – Betahistine 16mg Tablets
Safe in the management of Vertigo-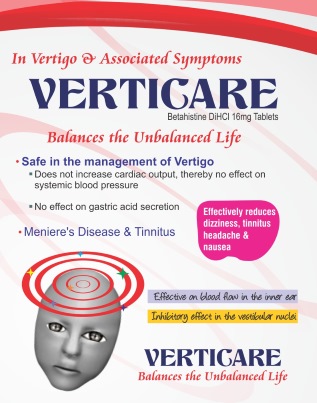 Does not increase cardiac output, thereby no effect on systemic blood pressure

No effect on gastric acid secretion
Meniere's Disease & Tinnitus-
Effective on blood flow in the inner ear

Inhibitory effect in the vestibular nuclei

Effectively reduces dizziness, tinnitus headache & nausea
Information About Verticare Tablet
Verticare 16 mg Tablet is a medicine used to treat a condition called Ménière's disease. The symptoms include dizziness (vertigo), ringing in the ears (tinnitus) and loss of hearing, probably caused by fluid in the ear. This medicine helps relieve the symptoms by reducing the amount of fluid.
Verticare 16 mg Tablet should be swallowed whole with water and taken at the same time(s) each day to get the most benefit. Your doctor will decide what is the correct dose to relieve your symptoms and how often you need to take it. You may need to take this medicine for several months and you should take it for as long as your doctor prescribes it, even if you start feeling better.
The most common side effects of Verticare 16 mg Tablet  include headache, feeling sick and indigestion (dyspepsia). You may also get stomach pain and bloating. Taking the medicine with food can help reduce stomach problems.
Before taking this medicine, you should talk to your doctor if you have a stomach ulcer, asthma or high or low blood pressure and tell him or her what other medicines you are taking, to make sure you are safe. Also speak to your doctor if you are pregnant, trying to become pregnant or breastfeeding.
USES OF VERTICARE TABLET
VERTICARE TABLET SIDE EFFECTS
HOW TO USE VERTICARE TABLET
Take this medicine in the dose and duration as advised by your doctor. Swallow it as a whole. Do not chew, crush or break it. Verticare 8 mg Tablet may be taken with or without food, but it is better to take it at a fixed time.
HOW VERTICARE TABLET WORKS
Verticare 8 mg Tablet is a histamine analog. It works by improving blood flow in the inner ear which reduces the pressure of excess fluid in the inner ear. Excess fluid can send signals to the brain causing nausea, dizziness or spinning sensations (symptoms of Ménière's disease). Verticare Tablet additionally dampens down the nerve signals sent from the inner ear to the brain. This relieves the symptoms of Ménière's disease.
VERTICARE TABLET RELATED WARNINGS
Alcohol – SAFE
Consuming alcohol with Verticare  Tablet does not cause any harmful side effects.
Pregnancy – CONSULT YOUR DOCTOR
Information regarding the use of Verticare Tablet during pregnancy is not available. Please consult your doctor.
Lactation – CONSULT YOUR DOCTOR
Information regarding the use of Verticare Tablet during lactation is not available. Please consult your doctor.
Driving – SAFE
Verticare Tablet does not usually affect your ability to drive.
Kidney – SAFE IF PRESCRIBED
Verticare Tablet is probably safe to use in patients with kidney disease. Limited data available suggests that dose adjustment of Verticare Tablet may not be needed in these patients. Please consult your doctor.
Liver – CONSULT YOUR DOCTOR
There is limited information available on the use of Verticare  Tablet in patients with liver disease. Please consult your doctor.
WHAT IF YOU MISS A DOSE OF VERTICARE TABLET?
If you miss a dose of Verticare Tablet, skip it and continue with your normal schedule. Do not double the dose.